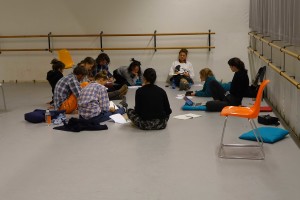 To be a company
To be a company but not be in the same constellation every day
To work with the absence of company members.
Does collectivity exist in an ever changing structure?
We have hopes for the future of the company and we have many questions; we speculate about the future of Weld Company and 'The Dance Company' in general.
We are two clusters merging with new members freely oscillating between them. The boundaries between Weld Co 13 and 14 dissolving as we meet in various constellations.
In 2013 when I spent nearly 3 months in this structure through working with the invited choreographers the relationships with the other dancers were forged by this work. Through the work we related in a certain way with a certain body. These bodies are absent or have changed and ways of connecting are re-negotiated and bodies are re- again. By choosing to do or not do things identities change course or shape or manifest in a different way. Shape-changing the identity of Weld Company.